S&K Reliable Handyman Service, LLC
Your full service Reliable Handy Man Provider!
Take the trouble out of the maintenance of your summer accommodations! NO JOB TOO SMALL!
Contact Us: Scott Woodward or Karen Ferguson

Call us today! 419-967-5540
Some services we provide:
Repair or Replace:
Door Hardware, Latches
Shed, Barn or Playhouse
Drywall Repair, Can not do ceilings
Light Fixtures, Switches, Fans
Plumbing from the wall out
Floors
Install:
Mirrors
Vinyl Flooring
Painting or Staining:
Painting or Staining - Small Projects
Interior Painting or Staining: 1 - 5 Rooms

Caulking
Winterizing and de-winterizing of RV's, homes and trailers
Pressure Washing or Hand Brush Washing
Don't see a service listed here? Ask to see if we provide it!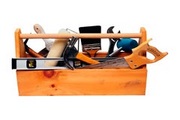 We honor the Golden Buckeye Card
Bonus: We show up when we say we will!
Coming for a brief stay?
We will open and air out your summer accommodations, wash and place your linens and get it ready for your stay-Just give us a call!
Some examples of our work: